Thursdays 09:30-10:45
This course is taught in English.
Style: Lower back yoga
Lower back yoga strengthens and stretches all muscles that are responsible for a healthy, vital spine in a way that minimizes stress and compression to the spine. The exercises are done in a slow, steady rhythm so that one develops a heightened awareness of all the sensations within the body. This allows one to experience the deeply relaxing benefits of yoga. Due to the gentle and focused nature of this course, it is also beneficial for those who are currently not involved in any active exercise program but wish to start. Go to the Lower back yoga page.
Teacher: Denise Pesch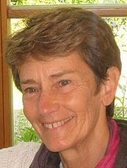 Practicing yoga since 1967 and teaching since 1984, Denise has experienced the feeling of easiness, lightness, joy and health in life and wishes to impart this wonderful experience to all her students in the varied styles of yoga that she teaches - Ashtanga, Sivananda, Vinyasa Krama, Pregnancy yoga, Yoga for the back and Hormone yoga. Go to Denise's page.
Location: Strassen
With oak floors and a warm ambience with a view from the terrace of an occasional grazing sheep, our new Strassen center is a haven from the hustle and bustle of city life, located on route d'Arlon near rue de Reckenthal, just 200m from the A6/E25 autoroute. Go to the Strassen page.
What to bring
There are men and women's changing rooms at this location. Wear comfortable clothing to stretch in. There are some yoga mats for new students to borrow, but not enough for all. If you have your own, please bring it. Info for your first yoga class.
Please bring white, beige or light grey socks. There are practices with the feet against the wall, and black or dark blue socks stain the wall.
Payment
At registration, we require term payment to guarantee your place. You may cancel after the first class according to our term cancellation policy.
List of Individual Classes

| Date | Info |
| --- | --- |
| April 20, 2017 | ✓ |
| April 27, 2017 | ✓ |
| May 04, 2017 | ✓ |
| May 11, 2017 | ✓ |
| May 18, 2017 | ✓ |
| May 25, 2017 | canceled for holiday! |
| June 01, 2017 | ✓ |
| June 08, 2017 | canceled for holiday! |
| June 15, 2017 | ✓ |
| June 22, 2017 | ✓ |
| June 29, 2017 | ✓ |
| July 06, 2017 | ✓ |
| July 13, 2017 | ✓ |
17 € single class rate. Call 333 419 the afternoon before or morning of a class to make a single class reservation, or make your term registration anytime below with the option of a refund after your first class.
+ Term Registration
Term Registration
To register for this course please send us an email to info@yoga.lu