The Upanishads - the Source of Yoga with Swami Kashi
commençant le Samedi 09 mai 2020 à 10:00
The Upanishads are poetic and passionate texts within the ancient Vedic scriptures where the mystical experience of yoga was first expressed. The word yoga refers to a sublime state of union with divine consciousness. Later, yogic practices for the mind, emotions and body arose to enter into this divine state. In this program, Swami Kashi gives an overview of the Upanishads with reference to selected texts to increase our understanding, expounding as well on the great sayings of the Upanishads called the Mahavyakyas.
Set-up for Streaming
After registration, you will receive an email with the preparatory steps necessary to stream the class and the Meeting ID number.
Donation-based Program
Swami Kashi wishes that the program be donation-based. For technical reasons, we have set the donation at 15 Euros in the registration window below. If you use it to register, your donation will be 15 Euros. If you wish to make a larger or smaller donation, email us at info@yoga.lu to register and make a donation by clicking the donate button here. We will forward 100% of your donation to
Swami Kashi's ashram
. You may also donate via INFINY asbl and INFINY will forward your donation:
INFINY asbl
IBAN LU56 0020 1875 9477 2200
BIC: BILLLULL
Style : Advaita Vedanta
(text from Wikipedia) Advaita Vedanta is a non-dualistic school of Hindu philosophy and religious practice, and one of the classic Indian paths to spiritual realization. The term Advaita refers to its idea that the soul (true Self, Atman) is the same as the highest metaphysical Reality (Brahman). Adherents seek spiritual liberation through acquiring vidyā (knowledge) of one's true identity as Atman, and the identity of Atman and Brahman. Visitez la page : Advaita Vedanta.
Enseignant : Swami Kashi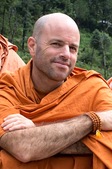 Of Israeli descent, Swami Kashi joined staff at the Sivananda Yoga Center in Tel Aviv in 1999. In 2000, he moved to India and became a disciple of Swami Chaitanyananda, a direct disciple of Swami Sivananda of Rishikesh, living with him for 3 years where he learned Sanskrit, Hindi, and Vedanta philosophy. Above all, he learned from Swami Chaitanyananda's love and compassion in his day-to-day dealings with people. In July 2014, he was initiated into the order of Sannyasa and lives in Uttarkashi, India. Swami : Visitez sa page.
Lieu : Streaming à domicile
Téléchargez l'application zoom sur zoom.us et suivez les étapes préparatoires pour recevoir la diffusion de nos cours à la maison. Visitez la page : Streaming à domicile.