The Yoga of Sound & Dhrupad singing
starts Saturday 02 november 2019 at 09:30
This workshop is taught in French.
Dhrupad is the oldest classical genre from the North Indian tradition. In the Dagarvani style, this genre is also perceived as a spiritual journey through sound. This path is called Nāda Yoga and begins with methodic ways for developing subtle perceptions, body feeling, and establishing the basic qualities of voice, resonance, and hearing.
During these two days, we'll experience how, even at a beginner level in this tradition, resonating, singing, feeling of joy and transcendence are all blended in with each other.
Each day, we will 'prepare' the voice, open the resonance, and establish the presence to the body and feeling of the vibration with simple nada yoga practices.
Then we'll learn to sing a traditional musical composition and approach a rāga (Indian musical 'mode') and Tāla (cyclic rythm).
This workshop is open to all without any previous experience in yoga and/or singing.
Program

Saturday

9:30-12:30

Day 1 Morning Session

Saturday

12:30-14:00

lunch

Saturday

14:00-17:00

Day 1 Afternoon Session

Sunday

09:30-12:30

Day 2 Morning Session

Sunday

12:30-14:00

lunch

Sunday

14:00-17:00

Day 2 Afternoon Session
Participation
Morning and afternoon sessions are bound together, so engagement is for a full day. One can attend Day 1 and/or Day 2. There will be a short break midway through each session.
Price
Full workshop: 150 € early-bird by October 15th, 180 € normal price.
Single-day: 80 € early-bird by October 15th, 100 € normal price.
For early-birders, payment must be made at time of registration!
This workshop is run under the auspices of INFINY asbl and only publicized by Centre de Yoga - La Source. Payment is made to INFINY, not La Source.
There is a 5 € once-a-calendar-year INFINY membership fee even if you are only attending a single session. The 5 € membership fee is necessary for insurance purposes.
Cancellation Policy
All cancellations are subject to a 20-Euro administration fee. Payment is fully refundable (less the administration fee) if cancellation is done no later than October 15th. 50% lost if canceled by October 30th. If you cancel after October 30th, you may only be refunded if you are able to find a replacement for your place even if your cancellation is due to an illness.
Style: Nāda Yoga
There is something sacred inside each one of us that vibrates in perfect harmony with the Universe. However, the cacophony of our thoughts prevents us from enjoying this inner harmony. Nāda Yoga teaches us how to rise above this noise, go deeper into our heart and discover the inexhaustible source of inner peace and strength there. Go to the Nāda yoga page.
Teacher: Arnaud Didierjean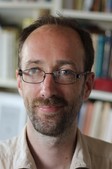 After a formal musical education in piano, Arnaud dedicated himself to experience the path of personal and spiritual evolution through singing. On that journey, he had the joy to follow the teachings of several traditions of sacred singing embodied by great teachers and masters. They generously helped him to experience the relation between sound and consciousness. Among these traditions, his fifteen years of learning Nāda Yoga and Dhrupad has been for him the most profound and clearest path to understand what is a personal and spiritual journey through sound and consciousness. Go to Arnaud's page.
Location: Walferdange
25, rue Josy Welter, Walferdange. This warm and cozy setting provides an intimate and wonderful atmosphere for the practice of yoga. Easy to get to, with a bus stop 100 meters away and parking in the Mairie and the cemetery. Entrance is to the left of the house. Go to the Walferdange page.