"Dynamic Stillness" - A Yoga Retreat in the Vosges Mountains
Thursday 06 july 2017 at 20:00
Experience what a vacation is meant to be - to "vacate" mental and physical stress and come into a renewed and blissful state full of calm and equanimity.
Come join us for a magnificent week of yoga with La Source and inter-activities with the "Rezonance" team at L'Evasion in the Vosges mountains August 18-25, just 2 1/2 hours from Luxembourg. We will revitalise our energy system with yoga, commune with Nature and silence, and learn and practice with "Rezonance" about non-violent communication, vegetarian cooking, how to reduce our environmental impact and much, much more. More about Rezonance here.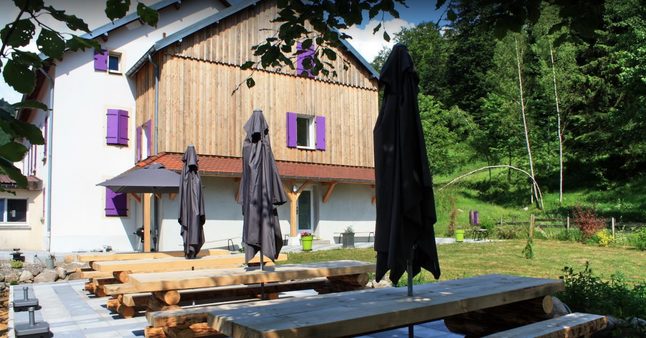 Daily yoga program
In yoga, our energy sheath (pranamaya kosha) animates our physical body (anamaya kosha) and influences our more subtle mental, intuitive and blissful sheaths. We will focus on this energy sheath to develop a deeper understanding and connection to it using theory, asana practice, pranayama (breathing practices), Nidra yoga, chanting and meditation. The intention will be to tune in to our more subtle inner processes and to govern them in a way that maintains us in a highly refined energized and blissful state full of calm and equanimity - a dynamic stillness.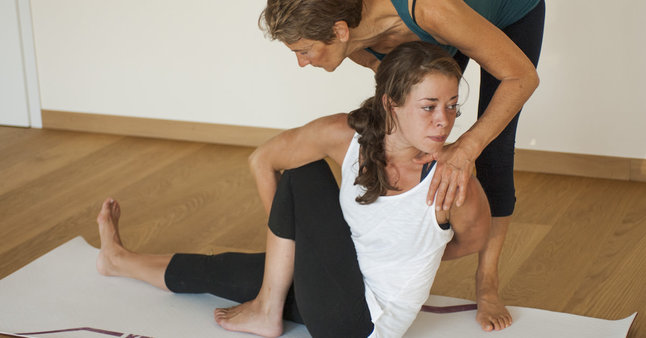 at last year's retreat in the Loire valley: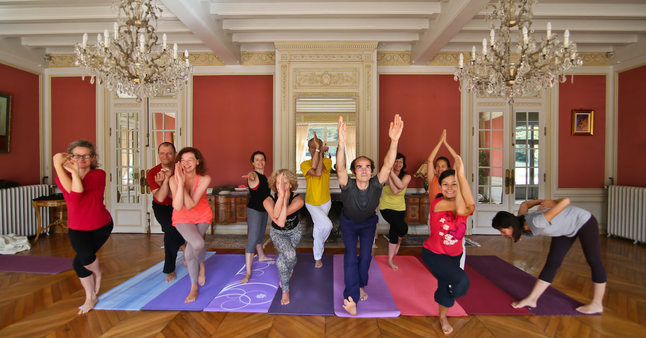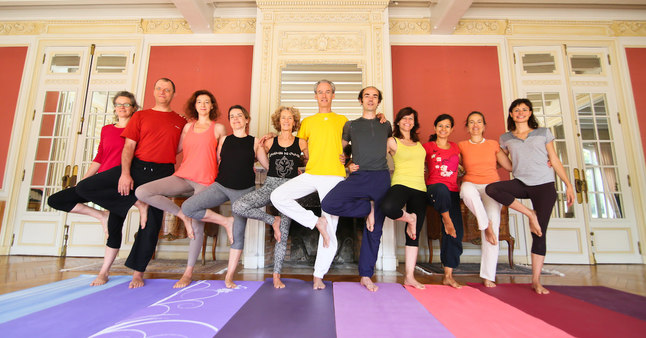 Time
Activity
7:00 - 8:00

We'll start each morning by stimulating, purifying and balancing our energy (pranic) system through various breathing modalities:

Prana Kriya from Kashmiri Shaivism (read more)
Pranayama, Chanting & Meditation

8:00 - 10:00

Hatha Yoga class:

We will practice asanas to gain strength and flexibility in order to move the spine safely in all directions and apply bandhas, mudras and kriyas to influence the movement of energy through the spine.
Later in the program, we will include visualisation and mental repetition of bija mantras that correspond to the chakra system while holding the postures or during meditation at the end of the practice.

10:00-11:00

Bio-Vegetarian Brunch

11:00-14:00

Free time or excursion

14:00-15:30

The "Rezonance" team will present each day various topics from non-violent communication, vegetarian eating & cooking, how to reduce our environmental impact and more. These programs will involve discussion and practices.

15:30-17:00

Asana clinic:

Learn preparatory exercises to open areas needed to improve stability and comfort in often-practiced yoga postures.
Explore anatomy and alignment with respect to inverted postures, back bends, forward bends, and twists for a more efficient pranic flow.

17:00-18:00

The Nidra Yoga of Kashmiri Shaivism (read more)

We'll practice Nidra Yoga exploring the Granthis - energy "knots" that impact our vitality, emotion and thought

18:00-19:30

Bio-Vegetarian dinner
Arrival
L'Evasion is 2 1/2 hours from Luxembourg. We will start with dinner Friday evening 18:00 on August 18th followed by a discussion on the 5 koshas and specifically the pranamaya kosha (prana, nadis, chakras).
The workshop will end after brunch the following Friday morning, August 25th.
Accommodations
A couple of single rooms with en-suite bathrooms are still available. Otherwise, double occupancy.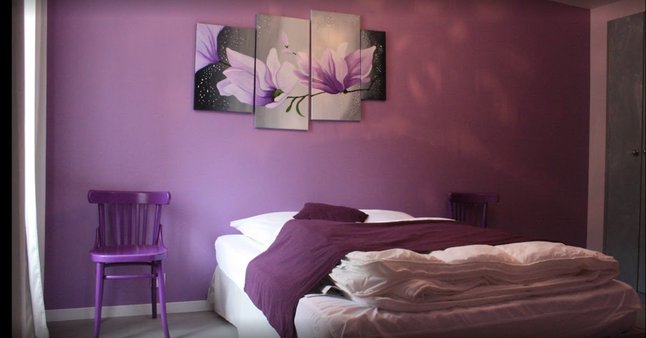 Food
The Rezonance team is responsible for the cuisine under the direction of Ilona de Haas. She explains her philosophy on food and cooking as follows:
Since my childhood, I have been passionate about cooking. My parents and family have always been very much interested in the subject of health and nutrition. I therefore decided to follow their guiding footsteps by continuously deepening my understanding and experiences in that field. The seven key words that embody my cooking and my cooking ethics are: Vegetarian, Living, Conscious, Simple, Homemade, Comfortable, and Therapeutic.
There will be a vegetarian brunch at 10:00: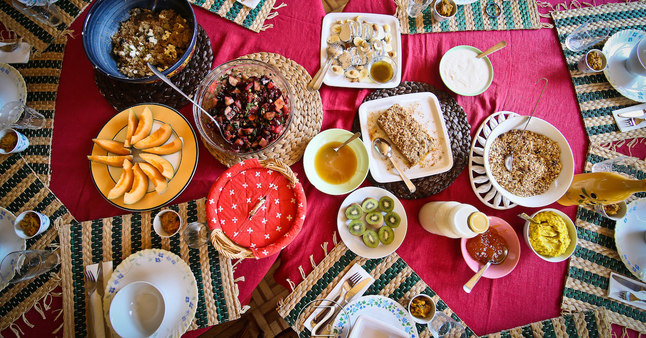 and a vegetarian dinner at 18:00: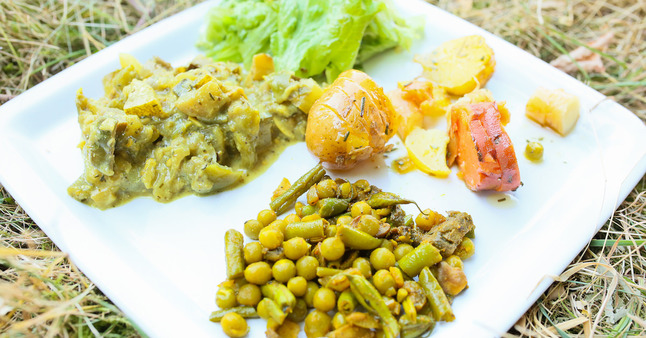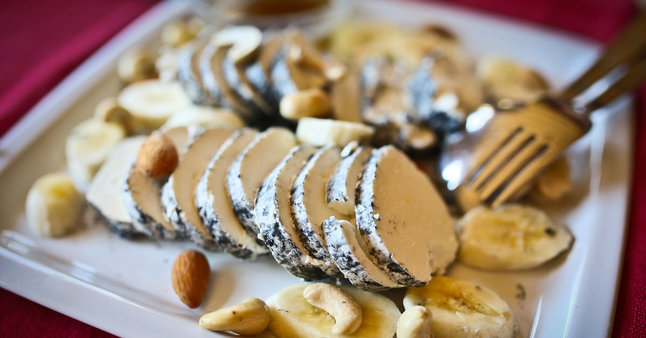 If you are vegan or gluten-free or have food allergies, please let us know at the time of your registration. Most ingredients will be bio. There will also be fresh fruits and snacks available throughout the day.
What to bring
A yoga mat, meditation cushion, light blanket. If you have a yoga brick and elastic or cloth band, please bring them too, but not obligatory. You may also wish to bring a flashlight and Nordic walking sticks.
Price
Price includes 2 meals a day and snacks for 7 days in a shared double bedroom with ensuite bathroom and all yoga and Rezonance programs. The payment must be broken up into separate parts: one for the food and lodging, one for the teaching. Ignore the automatic confirmation email regarding payment. We will email you at a later time for payment.
SEE PHOTOS OF LAST YEAR'S RETREAT IN THE LOIRE VALLEY
Cancellation Policy
Payment is fully refundable if cancellation is done no later than June 18th. If you cancel after June 18th, you may only be refunded if you or we are able to find a replacement for your place.
Attention: Please do not pay based on the confirmation email which is automatically generated and lumps the food and lodging with the teaching. There will be two payments to separate accounts. We will email you payment details personally at a later date.
Style: Hatha Yoga
Hatha Yoga is the branch of yoga that involves physical postures, breathing techniques and other practices to strengthen the physical body and to purify and balance one's energy to increase vitality, equanimity and joy of life. Go to the Hatha yoga page.
Teacher: La Source & Rezonance = :)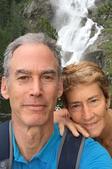 Fredric Bender and Denise Pesch of "La Source" team up with Nadine Feyder, Jean-Charles de Biolley, Ilona de Haas, Iza Viola, Laurent Allain and Nathalie Valentin of "Rezonance", a group of like-minded people from very diverse horizons that meet to learn together. In their words..."Together, we learn to take care of ourselves, of others, of objects and of nature, to co-create and share abundance and to cultivate joy and celebrate the beautiful. We believe in a holistic approach of evolution as everything is connected and interacts, from the importance of water, the food we grow and eat to the way we communicate and educate our children. Throughout this retreat, we will have the pleasure to share with you, through daily workshops, how we are revisiting some aspects of daily life in order to be in greater harmony with ourselves, others and our environment." See photos of the Rezonance team on the full bio page. Go to La Source & Rezonance's page.
Location: Gîte "Evasion" in Bussang
In the heart of the Vosgien mountains near the Drumont at the entry of a village called Bussang and only a few kilometers away from Alsace, gîtes Evasion welcomes you. It is an old colony transformed into a now furnished gîte of bedrooms with connecting bathrooms. There, you'll be able to do your favorite activities, such as walking, cycling, paragliding and so forth...or just to have a rest and enjoy a green and CALM space. Go to the Gîte "L'Evasion" page.