Winter Yin (2 hrs)
starts Thursday 18 january 2018 at 15:30
This program is taught in English.
Winter is the ultimate yin. As nature retreats and prepares for a slow transition into spring, so are we invited to slow down, take a step back and offer some nourishing practices to our body and mind. In this 2-hour workshop, we will focus on the meditative aspect of yin yoga, viewing the practice as an invitation for introspection and finding stillness while moving through poses that target the main areas where we tend to hold tension: shoulders, hips and lower back.
No previous yin yoga or meditation practice is necessary. Everybody is welcome.
Cancellation policy
This is not treated as an individual class within a term registration where one can cancel within an hour and receive a credit. This is considered an "event". We refund all cancellations made at least 48 hours in advance less 5 Euros. Within 48 hours, we will only refund if the event is full and we are able to take someone in from a waiting list.
This workshop is currently full. Registering below will wait-list you for the program. We will only contact you if a space becomes available.
Style: Yin Yoga
Yin yoga is a modern synthesis of Tao Yin and hatha yoga developed by Paul Grilley and Sarah Powers. In Yin yoga, floor postures are held for a long duration (3-5 minutes). On a physical level, it helps to increase the suppleness in the joints within our natural range of motion. While staying in the positions, we apply gentle pressure on the joints and relax the muscles around them. This way we affect the deep connective tissues and initiate the natural repair mechanism of the body. Energetically, Yin Yoga helps opening the body's meridian system. It increases our vitality and harmonizes the energetic activity of the body. Go to the Yin Yoga page.
Teacher: Eva Gyongyi Fekete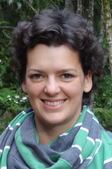 Eva started practising yoga in 2003 to find relief from her neck problems and everyday stress. She first practised according to the Yoga in Daily Life system, and over the years has discovered various yoga styles, including Sivananda, Ashtanga, Jivamukti and Yin yoga. In Luxembourg, she has been a regular student of Peter Taylor, Denise Pesch, Cheryl Senatore and Fredric Bender. In 2013, she completed a Sivananda Yoga teacher training course and a Yin/Insight Yoga teacher training course with Sarah Powers. She started teaching in September 2013. Go to Eva Gyongyi's page.
Location: Strassen
With oak floors and a warm ambience with a view from the terrace of an occasional grazing sheep, our new Strassen center is a haven from the hustle and bustle of city life, located on route d'Arlon near rue de Reckenthal, just 200m from the A6/E25 autoroute. Go to the Strassen page.