Awakening of Kundalini Energy
starts Saturday 20 october 2018 at 10:00
Acharya Shree Shankar's teachings are based on Advaita Philosophy (Non-Duality). He conveys his teachings through Yoga, Tantra and Meditation by following the ancient traditions of Indian Spirituality in order to bring more Peace and Harmony to the world.
The program includes Pranayama, Surya & Chandra Namaskar, Meditation & Mudras, Aum meditation, Spiritual discourse, Yoga Nidra and Satsang.
Schedule
Day
Time
Activity
Saturday
10:00-11:00

Pranayama (Different types of ancient breathing techniques)

11:00-11:30
Surya Namaskara (Sun Salutation - Series of Postures)

11:30-12:00

Asana for awakening the 7 Chakras

12:00-12:30

Yoga Nidra

12:30-13:00

Agni Meditation (to let go of the Past that acts as Blockage)

13:00-15:00
Lunch Break
15:00-16:00

Vedic Chants (7 Gayathri Mantra prayers for each day of the week)

16:00-17:00

Chakra Mudra Meditation (Guided Meditation on 14 Energy Centers)

17:00-18:00

Satsang (Question & Answer session with the Master)

Sunday
10:00-11:00

Pranayama (Different types of ancient breathing techniques)

11:00-11:30
Chandra Namaskara (Moon Salutation - Series of Postures)
11:30-12:00

Asana for awakening the 7 Chakras

12:00-13:00

Discourse on Philosophy & Branches of Tantra

13:00-15:00

Lunch Break

15:00-16:00

Sambhavi Mudra Dhyana (Powerful Meditation to Activate Third Eye)

16:00-17:00

Shiva-Shakti Union meditation (Balancing the Masculine & Feminine Energy)

17:00-18:00

Satsang (Question & Answer session with Master)
Participation
Participants are encouraged to register for the whole weekend, but there is an option for single-day registration as well. We reserve the right to cancel and refund single-day participants if later registrants wish to register for the whole weekend but cannot find a place.
This workshop is run under the auspices of INFINY asbl and only publicized by Centre de Yoga - La Source. Payment is made to INFINY, not La Source.
There is a one-time 5 € INFINY membership fee each calendar year even if you are only attending a single session. The 5 € membership fee is necessary for insurance purposes.
Price
The full workshop price is 180 Euros. Early-bird registration by September 20th is 150 Euros, but payment must be made at time of registration.
Cancellation Policy
All cancellations are subject to a 20-Euro administration fee. Payment is fully refundable (less the administration fee) if cancellation is done no later than September 20th. 50% lost if canceled by October 6th. If you cancel after October 6th, you may only be refunded if you are able to find a replacement for your place even if your cancellation is due to an illness.
Register
Workshop Cost: 180 €
by individual session
95 € | Sat. Oct. 20, '18 at 10:00-18:00
95 € | Sun. Oct. 21, '18 at 10:00-18:00
log in
create an account
Style: Advaita Vedanta
Advaita Vedanta is a non-dualistic school of Hindu philosophy and religious practice, and one of the classic Indian paths to spiritual realization. The term Advaita refers to its idea that the soul (true Self, Atman) is the same as the highest metaphysical Reality (Brahman). Adherents seek spiritual liberation through acquiring vidyā (knowledge) of one's true identity as Atman, and the identity of Atman and Brahman. Go to the Advaita Vedanta page.
Teacher: Acharya Shree Shankar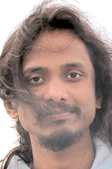 Acharya Shree Shankar comes from Bangalore City of India. He was born into a family of Hindu priests from the lineage of Adi Shankaracharya, founder of Advaita Vedanta. At a young age, Acharya Shree Shankar studied the ancient wisdom of India through the Veda, Upanishad, and later on the Bible, Quran and all major sacred books. Still, he could not find the deepest meaning of life in any of the religions. After his schooling at the M.S. Ramaiah College of Engineering, he left for the Himalayas to practice meditation with several yoga masters. There, he had a profound experience of enlightenment that remains with him to this day. Living and working in Hungary, he dedicates part of his time to teaching Yoga, Meditation and Tantra in the tradition of Non-Duality in order to help everyone reach the same Truth, offering his proceeds to charity. Still today, he has deep knowledge about all the religions but his teachings have gone beyond any religion to become Universal and to spread Peace and Harmony in the world. Go to Acharya Shree's page.
Location: City center: avenue Marie-Thérèse
The "salle gymnastique" at Résidence Grand-Duchesse Charlotte - Konviktsgaart is a nice, quiet space facing a garden perfectly situated for our yoga classes in the city. It is a few blocks from Hamilius-Aldringen and also has free underground parking. Go to the City: Marie-Thérèse page.