Massage & Bodywork
Fredric has suspended his massage work at La Source to focus full-time on teaching yoga and running the center. No appointments are available at this time.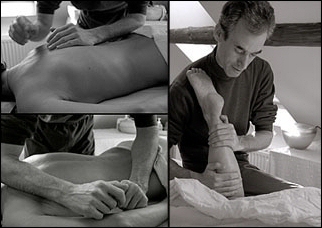 Massage and bodywork are a great complement to the practice of yoga in that they help to unwind both physical and mental tensions thereby restoring one to one's natural state with a feeling of lightness and joy.
Fredric offers the following modalities only during school vacations and summer when he doesn't teach his yoga courses:
Classical & Deep-Tissue Massage
Classic Massage is a warm, full-body, holistic oil massage that starts with gentle and enveloping strokes to calm the nervous system and to free the superficial musculature. At the same time, blood and lymph circulation are greatly enhanced.
Deep-tissue techniques may be employed to open up areas responsible for chronic pain and restricted range-of-motion. You'll feel a definite change and a deep sense of relaxation after each session.
Lymphatic Massage
The lymphatic system aids the body's auto-immune response to disease. Using slow, gentle strokes with a rhythmic pumping action, the massage technician tries to facilitate the flow of lymph, thereby accelerating detoxification and, at the same time, inducing a deep, relaxing calm.
Pregnancy Massage
Pregnancy massage focuses on the special needs of the mother-to-be as her body goes through the dramatic changes of the childbirth experience. The massage helps to relieve stress on weight-bearing joints such as ankles, low back and pelvis as well as alleviates neck and back pain caused by muscle imbalance.
Trager® Approach
The Trager® Approach is a bodywork modality which uses gentle wave-like movements to awaken one's conciousness of the naturally light, easy and fluid rhythms of the body.
Location
25, rue Josy Welter, Walferdange. See location & map.