Shivoham: a Journey into Bliss & Silence - Retreat with Manish Vyas
starts Friday 11 november 2022 at 15:00
With simple practices and ancient wisdom from India, join Manish Vyas for a residential weekend retreat from Friday, November 11th at 15:00 to Sunday, November 13th at 15:00 50 minutes from Luxembourg city...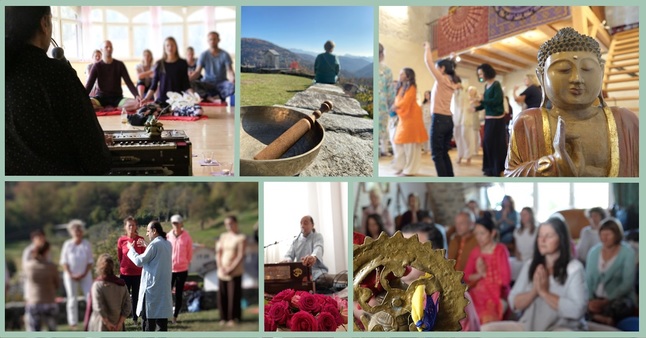 The art of meditation is simply to come in the space of being. As simple as it sounds, it is only possible through proper understanding, proper practice and proper guidance. This retreat is designed in a way, where various active and passive techniques of meditations will create a preparation, a foundation of a deep space where the seeds of wisdom can be planted so that they can grow in the right understanding, which can help an aspirant to apply in life to make the journey smoother, joyful, blissful.
Ancient wisdom of various masters shared by Manish Vyas, who has been with some amazing enlightened beings from India over a period of 30 years, assisted by stories, anecdotes, breathing techniques and live Mantra and Kirtan sessions, this is one unique program which nourishes the body, mind, soul and offers a feast of music, devotion, celebration and silence. His retreats do not offer any promises, but a potential flowering of very clear cut understanding and approach, to see things AS THEY ARE, in their simplicity, beauty and serenity, creating a space for the participants to come in contact with the true self.
If you like music and down-to-earth activities designed to uplift the body and spirit, you will love to join this retreat - it will gift you something new to treasure as a soul-touching experience. It will open a light, allowing the grace to shower.
There will be 12 sessions during the retreat that will include Pranayam, active and passive meditation techniques, talks and dialogues with Manish, Mantra Chanting and singing, a guided session in nature and some wonderful short inspirational short videos shown and explained in the night sessions. The program is quite compact, powerful and yet smooth and effortless, allowing the participants to dive deep into the space of being, making the most out of this time invested in oneself.
One can move towards meditation by discovering what is lacking in our inner life, where is the void... and that can be discovered by moving-IN, not by moving-OUT. And that is what a meditation retreat is helpful for, it focuses on moving inwards, on introspection, and on seeing the inner world." - Manish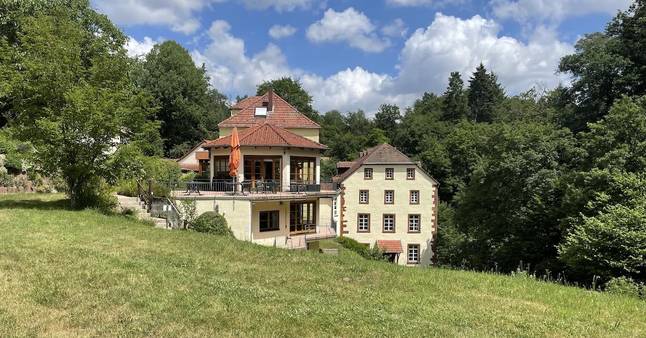 Read Manish's blog on the purpose of spiritual retreats.
Dear Manish : I want to thank you from my heart for this wonderful retreat, it was really full of wonders. I appreciated your presence, the meditation, the stories about India's great seekers and mantra musicians, the pranayam exercises and the beautiful mantra singing. Once returned home I suddenly felt that something important had happened during this retreat. I wish you both the best from my heart and sincerely hope to participate in another retreat in the future.
Thank you so much...it was such a magical weekend with you; it felt like drinking pure water from the source; cleansing body, mind and soul.
I wish to send you this message full of my Gratitude, my Joy and above all my Love. Thanks of lot for your beautiful presence, your teaching, your humility and especially your beautiful voice and music. I've been listening to you for a long time, but being in your presence is so powerful ! During this two days you gave me the fire to rekindle my inner flame. So thank you so much! - Habi
Thank you so much Manish for sharing with us your marvellous music and presence also... it was good for me to feel that we were all like One heart singing, and that our chants were received. The week after, we all have smiles upon our faces... our little lights are brilliants...also thanks to your loving Masters and the ancient wisdom of India." - Elen
Those three days were so beautiful, the nature around us... to explore my inner space, so quiet. You inspired me to start a daily Pranayam practive after my yoga sequence to move forward on my Yoga. - Thomas
Price
Retreat Fee: Early-bird until September 28th - 300 €, 350 € thereafter.
This retreat is run under the auspices of INFINY asbl and only publicized by Centre de Yoga - La Source. Payment is made to INFINY.
There is a 5 € once-a-calendar-year INFINY membership fee. The 5 € membership fee is necessary for insurance purposes.
Lodging & Pension Reservations
Lodging & Pension - approximately 150-200 € for the weekend depending on single or double-room accommodations with en-suite or communal bathroom options.
After registering for the retreat, please book your accommodations directly with Neumühle in mentioning our November 11th-13th retreat.
Cancellation Policy
Before September 28th, cancellation fee is 50% of the retreat fee. After September 28th, the cancellation fee is 100% of the retreat fee. It is the participant's responsibility to have an insurance which covers illness, accidents or other eventualities. As Manish works with small groups which get full, we can't provide insurance for sickness cancellation and other personal eventualities.
Register
Place available
Early-bird rate until September 28
Style: Meditation
The art of meditation is simply to come in the space of being. As simple as it sounds, it is only possible through proper understanding, proper practice and proper guidance in order to see things AS THEY ARE, in simplicity, beauty and serenity, creating a space to come in contact with the true self. Go to the Meditation page.
Teacher: Manish Vyas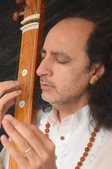 Manish Vyas is a professional musician and composer, singer, multi-instrumentalist from Gujarat, India who has learned and played since childhood Indian music and later focused in particular on sacred and devotional music like mantras, kirtan, and other types of higher music expressions from the ancient tradition from India. Beyond the spiritual value behind this music, his main focus is on the intrinsic power of sound, also known as naad yoga, which, combined with the right music, can be an incredible powerful tool to be used for the wellbeing and balance of the physical and subtle bodies - body, mind, soul. Manish has gone through a long path as a spiritual seeker. He has been with Osho since he was a child until Osho left the body. Later and still today, he has been closely connected to his master Gurudev, with whom he has coordinated 40-day retreats and meditations in India under his master's guidance and inspiration. Manish himself has done many 40 days retreats and prolonged silence periods during all these years, in different places in India while following the work of his master. In his retreats he shares those ancient tools which had been passed to him the last 30 years, to go deeper into oneself and as a path to ultimately discover our true nature. Go to Manish's page.
Location: Neumühle Seminarhaus
50 minutes away from Luxembourg City, this retreat center has served us for previous weekend retreats with vegetarian meals and single and double-room accommodations with en-suite bathroom options. Go to the Neumühle Seminarhaus page.