Introduction to Sivananda Yoga (2 hrs)
starts Wednesday 20 september 2017 at 15:00
This program is taught in French. If you seek a similar program taught in English,
see here
.
This 2-hour program combines the philosophical tenets of yoga in general with the basic yogic practices of the Sivananda tradition.
On a theoretical level, the student is introduced to:
a general overview of yoga
the four paths of yoga
a presentation of Sivananda yoga
proper exercise
proper breathing
proper diet
proper relaxation
positive thinking & meditation
the 7 chakras and energy channels
On a practical level, the student learns:
the mechanics of proper breathing
the rudiments of a cardiovascular practice called the sun salutation
some of the basic postures of the Sivananda system
proper relaxation
While most of our weekly courses are suitable for complete beginners, this program provides the beginner with a smooth transition into the courses as well as theoretical knowledge and philosophy of yoga in general and the Sivananda tradition in particular.
Cancellation policy
We refund all cancellations made at least 48 hours in advance less 1 Euro for bank fees. Within 48 hours, we will only refund if the event is full and we are able to take someone in from a waiting list.
Style: Intro to Sivananda Yoga
This program takes the beginning student through the 12 basic postures of the Sivananda system as well as the sun salutation and breathing practices in detail. In addition, philosophical principles of yoga are explored to provide the student with a solid foundation both in posture and philosophy. Go to the Intro to Sivananda yoga page.
Teacher: Christine Mathis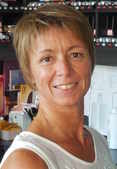 Christine began practicing Hatha Yoga in 2000. In 2011, following an accident, she discovered lower back yoga developed by Fredric. It enabled her to regain health and flexibility in her back. From there, she followed Sivananda and Ashtanga yoga courses with Fredric and Denise. In May 2013, she obtained her teaching certificate at the Sivananda Ashram Yoga Neuville-aux-bois in France. Christine hopes that through the regular practice of yoga, students become aware of their bodies, their subtle essence and develop more peace, harmony, tranquility and serenity. Go to Christine's page.
Location: Strassen
With oak floors and a warm ambience with a view from the terrace of an occasional grazing sheep, our new Strassen center is a haven from the hustle and bustle of city life, located on route d'Arlon near rue de Reckenthal, just 200m from the A6/E25 autoroute. Go to the Strassen page.