Côte d'Eich: Parc Laval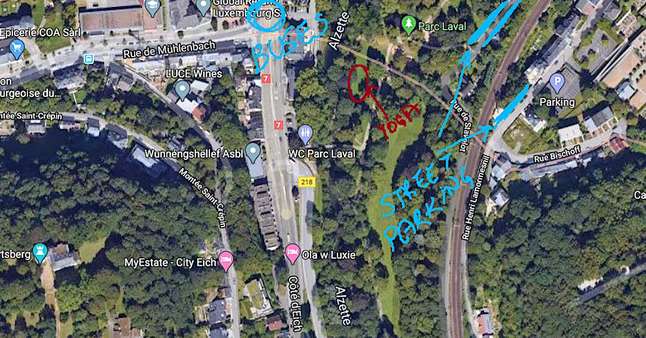 This park with a lawn that is flat and shaded is found at the bottom of Côte d'Eich and rue de Muhlenbach. It provides a convenient location for outdoor yoga with a bus stop just 2 stops from rue des Bains in the city and nearby street parking.
Meet-up Point
The grass area for yoga is right next to the small fitness area and not far from the children's playground zone.
Parking
1) Street parking in rue de Stavelot and also in rue Henri Lamoresnil are to be favoured as there is always enough parking space there on weekdays.
Rue de Stavelot - park next to the entrance to the park as indicated with "Street Parking"
Rue Henri Lamoresnil - park on a dedicated parking lot (for the cemetery) or park on the street before the crossing with rue Bischoff. Take the pedestrian/cycling passage under the railway at the crossing between rue Bischoff and rue Henri Lamoresnil to reach the entrance to Parc Laval.
2) In case neither of two options work, park at the dedicated parking lot at the different end of rue de Stavelot in Pfaffenthal where there is a small cemetery and where rue Val des Bons Malades begins.
by Bus
Buses 10, 11 two stops from Place des Bains in the city - bus stop name is "Eecherplaz".
Bus 8 from Kirchberg - bus stop name is "Lavals Parc".
Bus 21 through Rollingergrund - bus stop name is "Eecherplaz".
From Eecherplaz, walk direction city and cross little foot bridge at WC Parc Laval next to the street to Pfaffenthal. After you cross the bridge, go left towards the fitness area (see map above).
Funicular
From Kirchberg? A bit of a walk or short bike ride after taking the Funicular.