How to use a credit for a replacement class
From the second week of a term, the replacement feature is enabled once you have a credit...
The 'replacement classes' button brings you to the 'replacements' tab on your profile page where all available replacement classes within 2 days are listed.
You can use a credit any time before the end of a term, but you can only reserve a place within 2 days of a class...
Clicking a link to an 'available replacement class' brings you to that class's course page.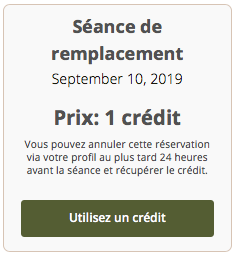 After making the reservation, your browser will show a confirmation in green, and your profile will show one less credit. You will also receive an email.
You can cancel the replacement class and get the credit back if you cancel at least 3 hours before the class. Within 3 hours of the replacement class, you may cancel, but you will lose the credit...
Also see: