Schedule for Winter 2022
January 3rd - April 10th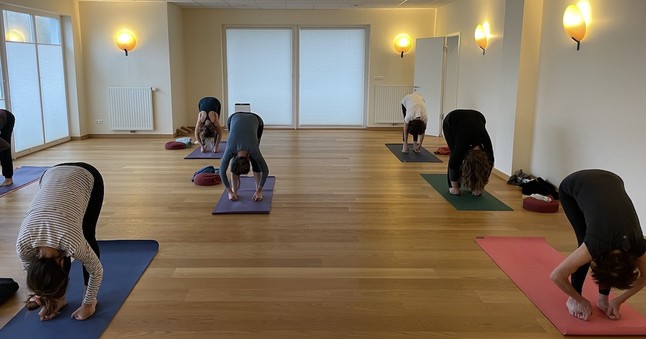 New? We'd love to speak with you. Call us at 333 419 to find the best course for you.
In-Studio Courses
All Strassen courses have a capacity of 12 students for a room of 100m2:
If a course shows full on a term basis, please waitlist yourself. We will increase capacity as Covid abates and give wait-listed students priority for our Spring term starting mid-April after Easter break.
Bring your own mats and props. Call or email to order a mat.
Streaming Classes
While listed in the table below, registration for our streaming-only classes is solely available on our "stream classes" page. Classes are posted there 4-7 days beforehand.
In-Studio Single-Class Registration within 48 hours
These spaces are available when the course has term spaces available or term students have canceled a weekly class.
---
Course Filter
Mondays
Time
Style
Location
Teacher
Term / Single-Class Price

09:30-
11:00

09:30-11:00

Strassen

Denise

0€

(0 dates)

/ 22€
Details

18:30-
19:55

18:30-19:55

Strassen

Denise

0€

(0 dates)

/ 22€
Details

20:05-
21:20

20:05-21:20

Strassen

Denise

0€

(0 dates)

/ 22€
Details
Tuesdays
Time
Style
Location
Teacher
Term / Single-Class Price

09:45-
11:00

09:45-11:00

Strassen

Rui

0€

(0 dates)

/ 20€
Details

12:15-
13:15

12:15-13:15

Strassen

Denise

0€

(0 dates)

/ 19€
Details

18:30-
19:45

18:30-19:45

Strassen

Andrée

0€

(0 dates)

/ 22€
Details

18:45-
20:15

18:45-20:15

City: Marie-Thérèse

Danijela

0€

(0 dates)

/ 22€
Details

19:30-
21:00

19:30-21:00

Bereldange

Marianne

0€

(0 dates)

/ 22€
Details

19:50-
21:20

19:50-21:20

Strassen

Andrée

0€

(0 dates)

/ 22€
Details
Wednesdays
Time
Style
Location
Teacher
Term / Single-Class Price

12:25-
13:25

12:25-13:25

Strassen

Denise

0€

(0 dates)

/ 19€
Details

18:30-
19:55

18:30-19:55

Strassen

Nathalie

0€

(0 dates)

/ 22€
Details

20:00-
21:30

20:00-21:30

Strassen

Diana

0€

(0 dates)

/ 22€
Details
Thursdays
Time
Style
Location
Teacher
Term / Single-Class Price

18:30-
19:55

18:30-19:55

Strassen

Andrée

0€

(0 dates)

/ 22€
Details

19:00-
20:30

19:00-20:30

Streaming at Home

Diana

0€

(0 dates)

/ 15€
Details

20:00-
21:30

20:00-21:30

Bereldange

Denise

0€

(0 dates)

/ 22€
Details
Saturdays
Time
Style
Location
Teacher
Term / Single-Class Price

09:30-
10:45

09:30-10:45

Strassen

Andrée

0€

(0 dates)

/ 22€
Details

11:00-
12:30

11:00-12:30

Strassen

Nathalie

0€

(0 dates)

/ 22€
Details
Sundays
Time
Style
Location
Teacher
Term / Single-Class Price

09:30-
10:55

09:30-10:55

Strassen

Beata

0€

(0 dates)

/ 22€
Details

11:00-
12:30

11:00-12:30

Strassen

Beata

0€

(0 dates)

/ 22€
Details