Vinyasa Krama Yoga: A Hatha Yoga for All (2 hr)
starts Saturday 16 july 2022 at 11:00
This 2-hour in-studio workshop of Vinyasa Krama yoga (taught in English) is accessible to all:
Yoga for the three stages of life: adapting your practice through asana, pranayama and meditation according to your condition and age
Brief explanation of the 10 key asana sequences
Asana practice with focus on synchronizing movement with ujjay breathing and step-by-step progression (krama)
Bandhas, mudras and vishesha vinyasas (special sequences): Suryanamaskara (sun salutation) and Ding-namaskara (salutation to the guardian angels of various directions)
Pranayama, Pratyahara & meditation
Price
The normal price is 26 Euros. The early-bird rate before July 9th is 22 Euros.
Cancellation Policy
Payment is refundable if cancellation is done no later than July 9th. If you cancel after July 9th, we would give you a credit for a summer weekly class or you may only be refunded if you are able to find a replacement for your place.
Style: Vinyasa Krama Yoga
Vinyasa Krama Yoga develops strength and flexibility. It improves circulation of blood, lymph and life energy (prana). It's a simple, enjoyable and effective way of exercising all joints, muscles and tissues of the body without stressing the heart. The movements are slow and synchronised with ujjayi breathing which concentrates the mind and brings it into a state of peace. With its emphasis on synchronised breathing and moving, the system prepares the person to sit with steadiness and comfort for the more subtle practices of pranayama and meditation which are included in each class. The whole process gradually transforms the body and mind, releasing old patterns of mental tension and dysfunctional patterns of movement. Go to the Vinyasa Krama Yoga page.
Teacher: Danijela Radic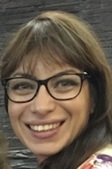 Danijela's first contact with yoga was back in the late '90s in Belgrade. In 2009, she joined Denise's Ashtanga courses and followed them for eight years before taking La Source's 300-hour Hatha Yoga Teacher Training, completed in April 2016. She continued in trainings, mainly in Ashtanga, Vinyasa Krama and Yin. She went to study with Srivatsa Ramaswami in Europe and India, obtaining two Advanced Teacher Training certificates (200 hrs) in Vinyasa Krama. It has helped her tap into deeper levels in her personal practice. While still in love with Ashtanga and its captivating flow of breath with movement – Vinyasa Krama unlocked the various stages of each asana and improved her stillness. Practicing yoga makes her happy and light. It clears her mind and frees the space for new ideas. She is grateful for the opportunity to share some of that lightness with you. Go to Danijela's page.
Location: Strassen
147 route d'Arlon, Strassen. With oak floors and a warm ambiance, our Strassen center is a haven from the hustle and bustle of city life, located on route d'Arlon near rue de Reckenthal, just 200m from the A6/E25 autoroute. Go to the Strassen page.