Introduction to Vinyasa Yoga (2 hrs)
starts Wednesday 13 september 2017 at 09:30
This 2-hour program taught in English introduces students to the basics of Vinyasa yoga. It is intended for new students and those of other styles who want to start this practice.
Vinyasa yoga is an authentic and traditional system of yoga in the lineage of Sri T Krishnamacharya. The practice consists of ten major sequences. Each sequence contains a classic yoga posture and variations of movement (vinyasa) which lead to the mastery of that posture with systematic practice. Transitional movements between sequences, numerous vinyasas within each sequence and counter-postures bring great variety to a regular practice.
To continue, there will be a weekly course on Mondays 9:45-11:10 in Strassen and Tuesdays 20:00-21:30 in the city.
Cancellation policy
We refund all cancellations made at least 48 hours in advance less 1 Euro for bank fees. Within 48 hours, we will only refund if the event is full and we are able to take someone in from a waiting list.
Style: Vinyasa Krama Yoga
Vinyasa Krama Yoga develops strength and flexibility. It improves circulation of blood, lymph and life energy (prana). It's a simple, enjoyable and effective way of exercising all joints, muscles and tissues of the body without stressing the heart. The movements are slow and synchronised with ujjayi breathing which concentrates the mind and brings it into a state of peace. With its emphasis on synchronised breathing and moving, the system prepares the person to sit with steadiness and comfort for the more subtle practices of pranayama and meditation which are included in each class. The whole process gradually transforms the body and mind, releasing old patterns of mental tension and dysfunctional patterns of movement. Go to the Vinyasa Krama Yoga page.
Teacher: Denise Pesch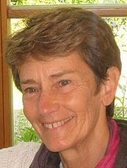 Practicing yoga since 1967 and teaching since 1984, Denise has experienced the feeling of easiness, lightness, joy and health in life and wishes to impart this wonderful experience to all her students in the varied styles of yoga that she teaches - Ashtanga, Sivananda, Vinyasa Krama, Pregnancy yoga, Yoga for the back and Hormone yoga. Go to Denise's page.
Location: Strassen
With oak floors and a warm ambience with a view from the terrace of an occasional grazing sheep, our new Strassen center is a haven from the hustle and bustle of city life, located on route d'Arlon near rue de Reckenthal, just 200m from the A6/E25 autoroute. Go to the Strassen page.