Hands-On Adjustment Clinic for Yoga Teachers
Friday 28 september 2018 at 14:30
This workshop is taught in English
Adjust your students with confidence and optimize their experience in the poses by refining your touch skills. As director of hatha yoga teacher trainings for Wanderlust, Joan Hyman has been giving teacher trainings internationally for years (Joan's bio). In this 2-hour workshop 14:30-16:30, learn how to better read and assess body language using the basic techniques of applying safe and practical hands-on adjustments as well as verbal and energetic adjustments. By focusing on how the poses work on different body types, you will explore several asanas in partner work. Learning how to assist and support others improves your own practice in the process.
This workshop is beneficial for all teachers regardless of yoga style. If you are not a teacher but are interested, email us.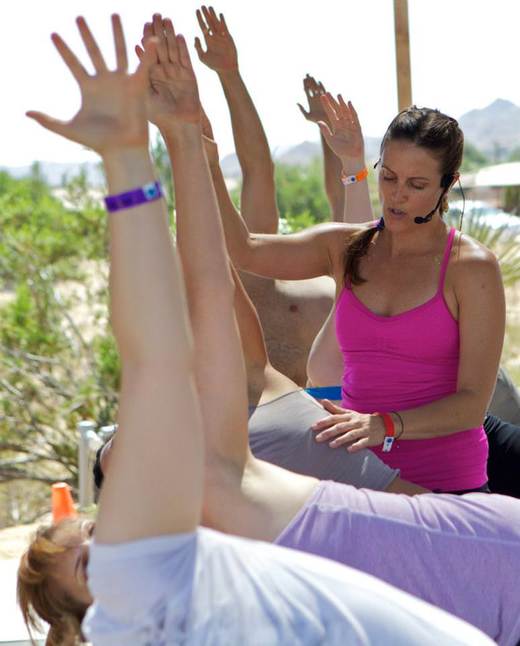 See Yoga Journal videos of Joan's teaching:
Participation:
This workshop is run under the auspices of INFINY asbl and only publicized by Centre de Yoga - La Source. Payment is made to INFINY, not La Source.
There is a 5 € once-a-calendar-year INFINY membership fee even if you are only attending a single session. The 5 € membership fee is necessary for insurance purposes.
Cancellation Policy
All cancellations are subject to a 10-Euro administration fee. Payment is fully refundable (less the administration fee) if cancellation is done no later than August 29th. 50% lost if canceled by September 15th. If you cancel after September 15th, you may only be refunded if you are able to find a replacement for your place even if your cancellation is due to an illness.
Style: Hatha Yoga
Hatha Yoga is the branch of yoga that involves physical postures, breathing techniques and other practices to strengthen the physical body and to purify and balance one's energy to increase vitality, equanimity and joy of life. Go to the Hatha yoga page.
Teacher: Joan Hyman
Joan is a distinguished YogaWorks Senior Teacher who weaves her personal yogic journey into popular teacher trainings, workshops and retreats around the world. Her teachings come from an organic, intuitive place as she draws upon the joyful study of ayurveda (the science of life), chakras and meditation. Go to Joan's page.
Location: City center: avenue Marie-Thérèse
The "salle gymnastique" at Résidence Grand-Duchesse Charlotte - Konviktsgaart is a nice, quiet space facing a garden perfectly situated for our yoga classes in the city. It is a few blocks from Hamilius-Aldringen and also has free underground parking. Go to the City: Marie-Thérèse page.