Marija Bjekovic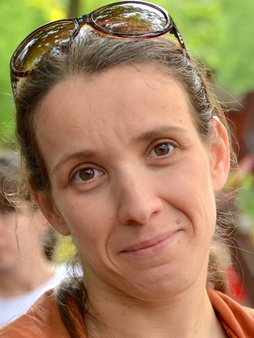 I first got in contact with yoga through Bikram yoga in Serbia in 2006 and was immediately drawn to it. Ever since my move to Luxembourg in 2008, I have been a regular student of Denise Pesch. Thanks to Ashtanga yoga practice, as well as Hormone yoga and Pregnancy yoga around my pregnancy, I experienced so many physical, emotional and mental benefits that I got interested in the depths of yoga as a system. The workshops with inspiring Kathy Cooper and Mathew Sweeney boosted this curiosity even further.
Ashtanga practice challenged me in many different ways, but it ultimately resulted in a profound change, which brought a constant feeling of joy and lightness in my life. This made me realise that I wanted to become a yoga teacher in order to share this practice and my own insights. I have obtained my Ashtanga Vinyasa Yoga Teacher Diploma with John and Lucy Scott in 2015.
My main practice is Ashtanga Vinyasa, but I like to explore and draw on different styles of yoga. In particular, I draw on Iyengar teachings and on different sequences designed by Matthew Sweeney. The asana practice within Ashtanga Vinyasa is strong, challenging and very rewarding. The attitude of listening, allowing and accepting the intelligence of one's body-mind is crucial. I want to encourage students to nurture this loving and caring inner attitude, as through it, their experience not only of asana but of life itself may beautifully change.
I adored yesterday evening's class with Marija. It's exactly what I needed! She really guides us well into feeling the benefits of each posture. A new world opens... - E.L. 8/31/2016
Schedule for Marija Bjekovic