Thursdays 12:25-13:25
Sivananda Yoga
Registration
Term
starting March 23, 2023
48 €
3 classes remaining
Class price average: 16.0 €
Single Class
March 23, 2023
19 €
Space available, but registration only possible 48 hours before class time.
March 23, 2023
Space available, but registration only possible 48 hours before class time.
Log In
Create Account
Calendar
10
- Upcoming classes you have canceled
Style
Sivananda Yoga
Sivananda Yoga is the style of hatha yoga within the lineage of Sivananda Saraswati. It is for the student seeking inner tranquility and centeredness. In a Sivananda class, we start with conscious breathing exercises to tune inward then the sun salutation, a cardio-vascular exercise, to warm up. This is followed by 12 core postures to channel and concentrate vital energy. A guided relaxation is done at the end and brings about the overall sense of harmony and well-being one feels after class. Regardless of whether a student comes into class tired or stressed, the balanced nature of the Sivananda sequence renders the student calm and lucid. More details
Teacher
Melanie Mancini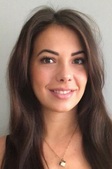 Melanie is a passionate and open-minded yoga teacher able to adapt to all kinds of people from the youngest to the oldest. She is attentive, understanding and attuned to her students. Passionate about yoga for many years, she decided to train herself and obtain her yoga teacher diploma in 2017 at the Sivananda Yoga Center in Neuville aux Bois to live definitively from her passion. Since 2017, she has been giving yoga classes every week for different municipalities in Luxembourg and France to groups of students ranging from 5 to 60 people. More details
Location
Strassen
147 route d'Arlon, Strassen. With oak floors and a warm ambiance, our Strassen center is a haven from the hustle and bustle of city life, located on route d'Arlon near rue de Reckenthal, just 200m from the A6/E25 autoroute. See location & map
What to bring
Practice in comfortable clothing. There are men and women's changing rooms at this location.
Please bring your own mat. See selection to order.